Features the complete text of: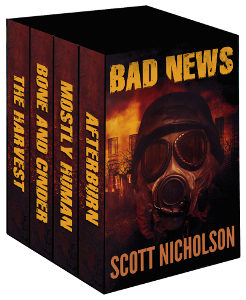 AFTERBURN- Five years after a massive solar storm, survivors must face the strange mutants that have taken over a world populated by bloodthirsty monsters.
MOSTLY HUMAN- An embittered British policeman is drawn into a series of murders that point to an unnatural suspect. (With Steven Savile, Steven Lockley, and William Meikle)
BONE AND CINDER- In the immediate aftermath of a technological collapse, Mackie Dailey organizes a small band of survivors to fight mysterious, savage mutants and a vicious crime lord. (With Joshua Simcox)
THE HARVEST- When an alien entity falls into the remote mountains, a strange infection spreads to a small town and changes people. 
Share ... 






Follow Scott ...