Currently 99c in an Amazon Countdown Deal through March 6.

After the violent death of Katy Logan's psychopathic husband, she inherits a farm in the Appalachian Mountain town of Solom. 

Determined to protect her teen daughter Jett and not surrender to fear, she builds a new life in the wake of the tragedy. However, the dark forces that drove her husband to madness still lurk in Solom, and a horseback preacher has returned from the grave with a sinister mission. Solom's slumbering spirits are stirring, the herds of goats are restless, and the townspeople are banding together to ward off the sinister force that threatens to destroy them. 

Katy and Jett discover an unexpected ally as they are drawn into the supernatural showdown, but is anyone–or anything–powerful enough to walk away from Solom's final battleground?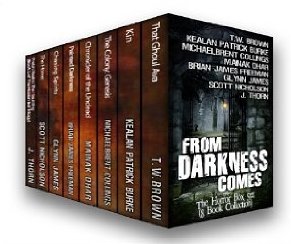 WHEN DARKNESS COMES multi-author box set for Kindle, 8 different novels (including THE HOME) for only 99 cents for a limited time.
Last chance to enter to be killed by Zapheads in After #3: Milepost 291, releasing March 31. Just write a review for After #1: The Shock and email authorscottnicholson@gmail.com with "Reviewed" in the subject line. 
Share … 






Follow Scott …