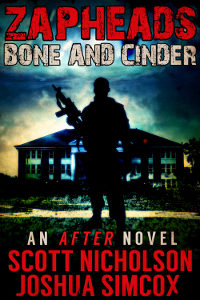 Love action, adventure, zombies, thrillers, or post-apocalyptic horror? Get it FREE!
In the wake of devastating solar storms that wipe out the infrastructure and kill billions, Mackie Dailey fights his way to a small college campus in search of his former lover. The first book in the Zapheads series by Scott Nicholson and Joshua Simcox.
A spinoff of the bestselling After post-apocalyptic series! (After #0 and #1 are also free in all markets).
Amazon      Nook       Apple       Kobo       GOOGLE        Amazon UK
Share ... 






Follow Scott ...