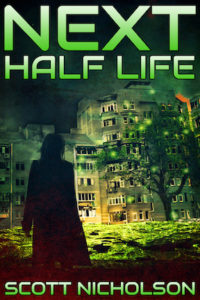 "One of the most thrilling writers working today. Miss him at your peril." –Blake Crouch, Dark Matter
Next #6: Half Life
Amazon    Nook     Kobo    Apple    Google Play     Kindle UK

After a post-apocalyptic showdown with a race of advanced mutants, Rachel Wheeler has lost everyone she loves in a hostile, contaminated land.
A half-mutant herself, she searches for the few remaining survivors with a dream of building a new civilization. But the survivors reject her strangeness, and the mutants don't trust her loyalties. Rachel is torn between two worlds, but she might be the key to stopping a terrible, ruthless world that will destroy them all.
Enjoy the entire series! Next #1: Afterburn, Next #2: Earth Zero, Next #3: Radiophobia, Next #4: Directive 17; Next #5: Crucible
Share ... 






Follow Scott ...