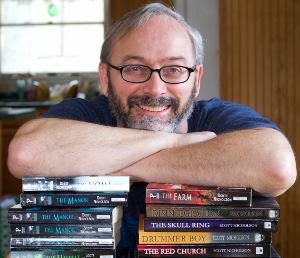 WILL TRADE WORDS FOR MAGIC BEANS
Author Scott Nicholson has written 20 thrillers, 60 short stories, four comics series, and six screenplays. He lives in the Appalachian Mountains of North Carolina, where he tends an organic garden, successfully eludes stalkers, and indulges in the vain whimsy of believing his thoughts are important. 
MORE
Nicholson has written hundreds of songs and poems and was a musician in a former life. As a newspaper reporter, he won three North Carolina Press Association awards. He's had the usual collection of odd jobs: dishwasher, carpenter, painter, paranormal investigator, baseball card dealer, and radio announcer. Now he haphazardly trades words for magic beans and uses "haphazardly" as often as possible while decrying the overuse of adverbs.
Entering the digital era with a vengeance, Nicholson has sold more than half a million ebooks. He is releasing original titles, audio books, children's books, translated editions, and graphic novels.
Nicholson won the grand prize in the international Writers of the Future contest in 1999. That same year, he was first runner-up for the Darrell Award. He studied Creative Writing at Appalachian State University and UNC-Chapel Hill. He has been an officer of Mystery Writers of America and Horror Writers Association and is a member of International Thriller Writers and inaugural member of the Killer Thriller Band.
Unfortunately, they never taught him to write: he had 105 rejections before his first story sale and over 400 before he sold a novel. Now he's up to 800 rejections, but he's managed to outlast many of those who rejected him. He hasn't learned much from his mistakes but thinks he'll probably improve with practice. If nothing else, he's become a better liar.
Awards:
Finalist, 1998 Writers of the Future
1999 Hubbard Gold Award
1999 First Runner-Up for Darrell Award
Honorable Mentions, 1999,2000, and 2002 Year's Best Fantasy & Horror
Locus Magazine new & notable list, 2002
Semifinals, 2002 Chesterfield Film Writers Competition
Finalist, Stoker Award for Best First Novel, 2003
Semifinals, 2003 Chesterfield Film Writers Competition
2006 Year's Best Fantasy & Horror
Favorite Writers: William Goldman, Ira Levin, John Steinbeck, Shirley Jackson, Dr. Seuss, H.G. Wells, Ray Bradbury, Mark Twain, Elmore Leonard, Richard Brautigan, Kurt Vonnegut, James M. Cain, Jim Thompson, Stephen King, James Lee Burke
Favorite Music: Death Cab for Cutie, The Cure, Robyn Hitchcock, David Bowie, The Replacements, Paul Westerberg, XTC, Kate Bush, The Smiths, Elvis Costello, Hank Williams, Natalie Merchant, Beatles, Who, Clem Snide, The Smashing Pumpkins, Tegan And Sara, Pink Floyd
Favorite Movies: Il Buono, il Bruto, il Cattivo (The Good, The Bad, and The Ugly); The Princess Bride; Shrek; Night of the Living Dead; The Shining; The Big Lebowski; Carnival of Souls (the original, of course); The Outlaw Josey Wales; Magic; Silence of the Lambs; Sling Blade; Invasion of the Body Snatchers; Unforgiven; The Shawshank Redemption; She's Having A Baby; Little Miss Sunshine; Cape Fear; A Simple Plan; Let the Right One In
Favorite Artists: Rene Magritte, Salvador Dali, Peter Brueghel, Francisco Goya, M.C. Escher, Heironymous Bosch, Albrecht Duhrer, Dr. Seuss
Decadent Delights: sushi, pickled okra, olives, artichoke hearts, brie, tomatilla salsa, cheesecake, sweet potato pie, butter-broiled garlic, squash casserole, frozen lime bars, iced coffee.
Share ... 






Follow Scott ...