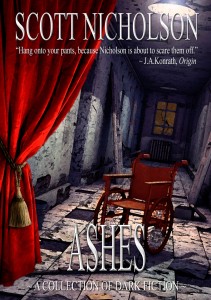 "Keep both hands on your pants, because Nicholson is about to scare them off."–JA Konrath/Jack Kilborn, author of Origin and Endurance
Available for Kindle, Nook, Kobo and as an audiobook at Audible and iTunes.
A collection of six supernatural stories by bestselling Kindle author Scott Nicholson, including "Homecoming," "The Three-Dollar Corpse" and "She Climbs a Winding Stair."
From the author of THE RED CHURCH, SPEED DATING WITH THE DEAD, LIQUID FEAR, DISINTEGRATION, DRUMMER BOY, and the collections FLOWERS, CURTAINS, and THE FIRST, these stories visit haunted islands, disturbed families, and forgotten pasts as Nicholson serves up chills, thrills, ghosts stories, and paranormal fantasy. Collected from the pages of Cemetery Dance Magazine, The Book of Dark Wisdom, Black Static, and more.
Exclusive introduction by Jonathan Maberry, author of THE DRAGON FACTORY and GHOST ROAD BLUES. The afterword explores the origins of the stories.
"Always surprises and always entertains."–Jonathon Maberry, The Dragon Factory
"Nicholson's Southern Gothic stories are beautiful, at times lyrical, and all the more eerie for it."–Steven Savile, Silver
"Lovecraft may have invented cosmic horror, but Nicholson brings it up close and personal."–Deborah Leblanc, Water Witch
"Scott Nicholson is a terrific writer. Like Stephen King, he has an eye and ear for the rhythms of rural America, and like King, he knows how to summon serious scares."–Bentley Little, His Father's Son
"He has moved into that literary shadowland between Neil Gaiman and Ray Bradbury."–Sharyn McCrumb, the Ballad novels
"Scott Nicholson writes with a mixture of H.P. Lovecraft, Manly Wade Wellman, and Clive Barker."–Kevin J. Anderson, Saga of the Seven Suns
Available in print as "Scattered Ashes" at Amazon and Dark Regions Press
---
TABLE OF CONTENTS
Timing Chains Of The Heart
Dog Person
The October Girls
Murdermouth
Sung Li
Silver Run
InThe Family
The Night Is An Ally
Work In Progress
The Endless Bivouac
She Climbs A Winding Stair
Watermelon
The Meek
The Weight of Silence
The Hounds of Love
You'll Never Walk Alone
Penance
Sewing Circle
Scarecrow Boy
Last Writes
Share ... 






Follow Scott ...