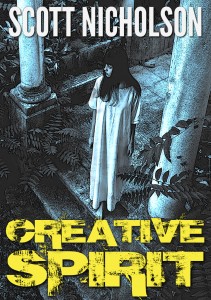 When artists gather at a remote Appalachian estate for a retreat, they are unaware that their energy is feeding something unwholesome. Sculptor Mason Jackson and dying parapsychologist Anna Galloway must uncover the dark secrets of Korban Manor before their spirits become trapped forever.
Available at Amazon, Barnes & Noble, Kobo and as an audiobook at Audible and iTunes.
Click "Add to Cart" for a signed trade paperback ($9.95 + $3 S&H)
---
A modern Gothic thriller
After parapsychologist Anna Galloway is diagnosed with terminal cancer, she has a recurring dream in which she sees her own ghost. The setting of her dream is the historic Korban Manor, and she's compelled to face the secrets of her soul.
Sculptor Mason Jackson has come to the manor to make a final, all-or-nothing attempt at success before giving up his dreams. When he becomes obsessed with carving Ephram Korban's form out of wood, even Anna can't divert his bizarre passion.
The manor itself has secrets, with fires that blaze constantly in the hearths, portraits of Korban in every room, and deceptive mirrors on the walls. With an October blue moon looming, both the living and the dead learn the true power of their dreams.
The author's preferred DRM-free edition of the 2004 U.S. paperback release THE MANOR. Scott Nicholson is the Kindle bestselling author of 13 novels, including LIQUID FEAR, CHRONIC FEAR, THE RED CHURCH, DISINTEGRATION, THE HARVEST, and SPEED DATING WITH THE DEAD.
"Scott Nicholson understands that the best horror novels achieve primal fear through a combination of sustained atmosphere, richly drawn characters, and believable if uncanny evils that draw unholy power from everyday lives." –Christopher Ransom, author of The Birthing House
"Keep both hands on your pants, because Nicholson is about to scare them off."–J.A. Konrath, Origin
"Scott Nicholson is the kind of writer who always surprises and always entertains."–Jonathan Maberry, Patient Zero
"Scott Nicholson explores the dark legends of the southern end of the Appalachian mountain chain, a nightmare country that ends in Stephen King's yard."– Sharyn McCrumb, author of The Ballad novels
Share ... 






Follow Scott ...