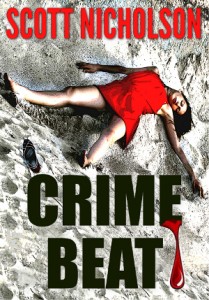 Crime doesn't pay…but neither does journalism.
A MYSTERY NOVELLA
View at Amazon US or Amazon UK for Kindle, Barnes & Noble for Nook, Kobo all formats at Smashwords and an audiobook at Audible.
When John Moretz takes a job as a reporter in the Appalachian town of Sycamore Shade, a crime wave erupts that boosts circulation and leaves people uneasy. Then a murder victim is discovered, and Moretz is first on the scene.
As more bodies turn up, Moretz comes under police suspicion, but the newspaper's sales are booming due to his coverage of sensational crime. His editor is torn between calling off his newshound and cashing in on the attention, plus the editor is romancing the big-city reporter assigned to cover the suspected serial killer.
And Moretz seems to be one step ahead of the other reporters, the police, and even the killer himself.
CRIME BEAT is a 21,000-word novella, the equivalent of about 110 book pages. Also contains the bonus story "Do You Know Me Yet?" from HEAD CASES.
"This is one author that aims to kill and never misses." – Jeremy Robinson, INSTINCT and THRESHOLD
"Buy everything he writes. He's the real deal." – Bentley Little, THE DISAPPEARANCE
"Always surprises and always entertains." – Jonathan Maberry, PATIENT ZERO
"Scott Nicholson's strong and vivid writing draws the reader deep into the story." – Vicki Tyley, THIN BLOOD
Share ... 






Follow Scott ...