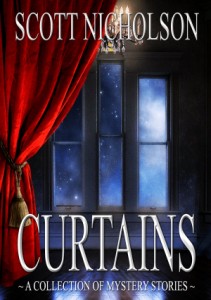 Available on Kindle, Nook, Kobo and Apple.
A collection of 13 crime and mystery tales from the vaults of Scott Nicholson. Includes "How to Nail Your Own Coffin" and Year's Best Fantasy & Horror selection "Dog Person," as well as the psychological thrillers "Letters and Lies," "Sewing Circle," and more stories that appeared in magazines such as Crimewave, Cemetery Dance, and Blue Murder.
Other stories include "Dead Air," "Good Fences," "In The Family," "Kill Your Darlings," "The Name Game," and "Watermelon," as well as a bonus story from bestselling writer J.A. Konrath and Simon Wood, and bonus excerpts from The Skull Ring and Disintegration.
"Nicholson is an old-fashioned storyteller, through and through."– Midnight Fantastique
Share ... 






Follow Scott ...