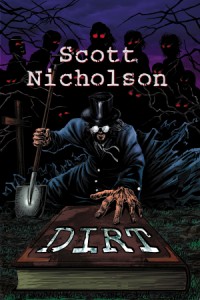 Trade paperback on Kindle and Nook.

Click "Add to Cart" for a signed trade paperback ($9.95 + $3 S&H)
---
72 pages of black-and-white supernatural suspense, adapted from Scott's short stories, with art by Kewber (CHAOS CAMPUS, SPLEEPRUNNERS, THE GORGE). Includes the complete contents of issues #1 & 2 plus two original bonus stories, rare sketches, a short story, and a comic script. 
"Always surprises and always entertains."–Jonathan Maberry, Rot and Ruin
Dirt #1, featuring "The Christening," "Timing Chains of the Heart," and "Carnival Knowledge." Art by Kewber. Adapted from Scott Nicholson's short stories. 24 pages, B&W interior.
Share ... 






Follow Scott ...