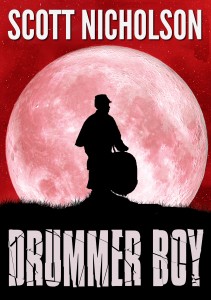 One misfit kid is all that stands between an Appalachian Mountain town and a chilling supernatural force.
Ebook available at Amazon.com or Amazon UK, Smashwords, Nook at B&N, Kobo, or Apple. 
Click "Add to Cart" for a signed trade paperback ($9.95 + $3 S&H)
---
On an Appalachian Mountain ridge, young Vernon Ray Davis hears the rattling of a snare drum deep inside a cave known as "The Jangling Hole," and the wind carries a whispered name. According to legend, the Hole is home to a group of Civil War soldiers buried by a long-ago avalanche. Everyone, especially Vernon Ray's dad, laughs at him…because he's different.On the eve of an annual Civil War re-enactment, the town of Titusville prepares for a mock battle. But inside the Hole, disturbed spirits are rising from their dark slumber, and one of them is heading home.And Vernon Ray stands between the battle lines of the living and the dead, caught between a world where he doesn't a belong and world from which he can never return.
The second book in the Sheriff Littlefield Series that starts with The Red Church. Professionally formatted by Dellaster Design and DRM-free.
From the author of DISINTEGRATION, THE RED CHURCH, THE SKULL RING, and SPEED DATING WITH THE DEAD comes a new masterpiece of supernatural suspense.
"Keep both hands on your pants, because Nicholson is about to scare them off."–J.A. Konrath/Jack Kilborn, author of Serial, The List, and Endurance
"He has entered a literary shadow land between Ray Bradbury and Neil Gaiman."–Sharyn McCrumb, The Hangman's Beautiful Daughter
"Scott Nicholson understands that the best horror novels achieve primal fear through a combination of sustained atmosphere, richly drawn characters, and believable if uncanny evils that draw unholy power from everyday lives."–Christopher Ransom, author of The Birthing House
"A master of atmospheric suspense." –Eric Wilson, NY Times bestselling novelist
"Like Stephen King, he knows how to summon serious scares."–Bentley Little, His Father's Son
"Always surprises and always entertains."–Jonathan Maberry, Rot And Ruin
Share ... 






Follow Scott ...