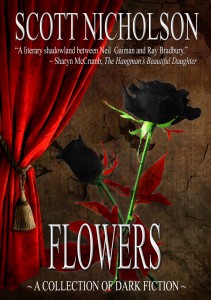 Available on Kindle, Kindle UK, Nook, Kobo.
Click "Add to Cart" for a signed trade paperback of the original "Thank You for the Flowers" with original art by John Shamburger ($9.95 + $3 S&H)

---
"Always surprises and always entertains." –Jonathan Maberry, ROT AND RUIN
A fantasy and paranormal collection.
Contains the Writers of the Future Award-winning story "The Vampire Shortstop" and 11 other tales of magic, romance, and the supernatural, including the Makers series in which children control the essential forces of the world. Includes "The Boy Who Saw Fire," "In The Heart of November," and "Invisible Friend."Nicholson is the author of 12 novels, including The Red Church, Drummer Boy, Disintegration, and The Skull Ring. With J.R. Rain, he wrote the urban fantasy Cursed! Look for his other story collections THE FIRST, MURDERMOUTH: ZOMBIE BITS, CURTAINS: MYSTERY STORIES, and ASHES.As L.C. Glazebrook, he writes the paranormal romance series OCTOBER GIRLS.
"Scott Nicholson is a very entertaining writer." -World Fantasy Award winner Tim Powers
"A fresh and true voice that will affect you, disturb you, enrage you, and make you laugh."-Kevin J. Anderson, NYT best-selling author 
Share ... 






Follow Scott ...