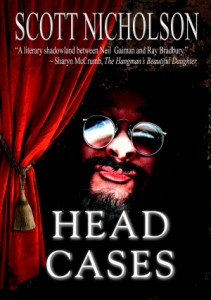 The book your shrink doesn't want you to read.
Buy it for Kindle at Amazon, for Nook at Barnes & Noble, or in all formats at Smashwords
A man whose psychiatrist gives him a special pair of glasses…
A past-life regression helps a man face his racism…
A woman senses the city is literally coming to life around her…
HEAD CASES is a collection of psychological thrillers and mind-bending horror stories from bestselling author Scott Nicholson. Features the previously unpublished tale "Fear Goggles," as well as stories from the pages of Blue Murder, Apex Magazine, Brainbox, Asylum: The Psycho Ward, and more. Also includes the Writers of the Future Honorable Mention story "Metabolism," as well as bonus stories by bestselling thriller authors William Meikle and John Everson and an article on "The Writing Life." DRM-free.
Nicholson is author of the #1 Kindle bestseller in mystery and Romantic Suspense, Disintegration, as well as The Red Church, The Skull Ring, Drummer Boy, As I Die Lying, Drummer Boy, and Forever Never Ends. He's also written the October Girls series, the DIRT comic, and, with J.R. Rain, the urban fantasy Cursed! He's also written the collections Ashes, Curtains, The First, Flowers, and Murdermouth.
"Hold onto your pants, because Nicholson is about to scare them off."–J.A. Konrath, Shaken
"Like Stephen King, he knows how to summon serious scares." –Bentley Little, The Vanishing
"Fast paced and always creepy, this is one author that aims to kill and never misses." – Jeremy Robinson, author of INSTINCT and THRESHOLD
"Always surprises and always entertains."–Jonathan Maberry, PATIENT ZERO
A collection of nine tales of paranoia, madness, and psychological suspense. Includes the first-ever appearance of "Fear Goggles," as well as other tales ripped from the case files of esteemed psychiatrists everywhere.
Bonus tales by William Meikle and John Everson.
Share ... 






Follow Scott ...