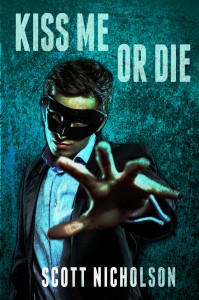 It's the worst novel ever written. And it's all the fault of that evil, soul-hopping spirit that took over Richard Coldiron's head. Or maybe the other four people up there.
Buy ebook at Amazon, B&N, or Smashwords, Kobo, Apple and in audiobook at Audible and iTunes.
A Richard Coldiron Novel
A metafictional thriller
Richard's life is a horror story. And it's all the fault of those people inside his head.
Richard thinks he has them stereotyped for his autobiography, but he's about to get a new tenant: the Insider, a malevolent soul-hopping spirit that may or may not be born from Richard's nightmares and demands a co-writing credit and a little bit of foot-kissing dark worship.
Now Richard doesn't know which voice to trust. The book's been rejected 117 times. The people he loves keep turning up dead. And here comes the woman of his dreams.
—-
A dark romantic thriller in the style of Chuck Palahniuk, Jeff Lindsay's "Darkly Dreaming Dexter" series, and Bret Easton Ellis.
Scott Nicholson is author of 15 other paranormal, mystery, and suspense thrillers, including the #1 Kindle bestsellers LIQUID FEAR, DISINTEGRATION, THE RED CHURCH, and THE SKULL RING.
"Fast paced and always creepy, this is one author that aims to kill and never misses." – Jeremy Robinson, author of INSTINCT and THRESHOLD
"Always surprises and always entertains."–Jonathan Maberry, Patient Zero
"Keep both hands on your pants, because Nicholson is about to scare them off."–JA Konrath, Shaken
Share ... 






Follow Scott ...