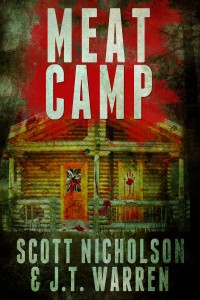 "Nobody thrills like Nicholson does. Nobody." — J.A. Konrath, Afraid
Bloodthirsty mutants go on a rampage at a camp for troubled teens after an infection spreads. Adapted from Scott Nicholson's original horror screenplay.
Available for Kindle.
In a desperate attempt to save their land from tax foreclosure, Delphus Fraley and his daughter open a camp for at-risk kids, with the goal of building character through experience in the Appalachian Mountain outdoors.
But a strange infection contaminating the camp's mess hall soon triggers a violent rampage. As the isolated camp turns into a bloodbath, camp counselor Jenny Usher first fights to save the children, and then finds she must fight to save herself.
Because this infection doesn't just kill, it brings the dead back to life.
Scott Nicholson is the international bestselling author of more than 30 books, including The Home, After: The Shock, Liquid Fear, The Red Church, and more.
J.T. Warren is the author of Hudson House, Rampage, Blood Mountain, and the series Jeremiah Rivers: Demon Hunter.
Share ... 






Follow Scott ...