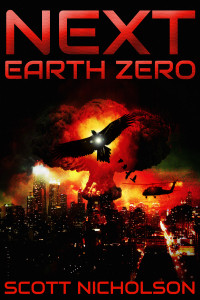 "One of the most thrilling writers working today. Miss him at your peril." – Blake Crouch, Wayward Pines
The second book in the Next post-apocalyptic thriller series
NEXT #2: EARTH ZERO
Kindle    Apple    Nook    Kobo    Google    Kindle UK
As the remnants of the human race mobilize for an attack on the mutants who have taken over the abandoned cities, a small band of survivors are caught in the middle of the conflict.
Rachel Wheeler's own mutant abilities could make her a valuable resource for the new government and the army it has formed in the wake of the apocalypse. But the people who want to take back the world have a ruthless vision for the future, and a toxic planet is unleashing its rage in the form of deadly predators. Meanwhile, the mutants are evolving at an astonishing rate and establishing a social order that defies human control. When her group is drawn into the ultimate war, Rachel must decide whether to stay loyal to the ones she loves or fight for ideals she doesn't fully embrace.
The top of the food chain is at stake, and the extinction of the human race may not be the worst possible outcome.
—————————–
Next #1: Afterburn, Next #3: Radiophobia, Next #4: Directive 17, Next #5: Crucible; Next #6: Half Life
Share ... 






Follow Scott ...