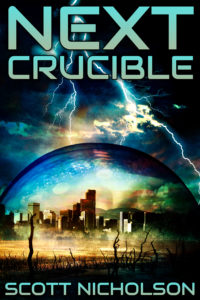 "One of the most thrilling writers working today." – Blake Crouch, Dark Matter
Amazon   Nook   Apple   Google   Kobo   Amazon UK
NEXT#5: CRUCIBLE
Rachel Wheeler and her friends are held captive in a strange city ruled by mutant Zaps, but she is determined to use her powers to overthrow their captors and escape.
But the domed city is more than it appears, and the Zaps have developed mysterious technologies and materials that mimic organic tissue. The Zaps are building sinister new creatures, hoping to replace the Earth's natural environment with one of their own creation. Meanwhile, the world beyond the dome is becoming increasingly more contaminated and hostile.
As Rachel and the others fight for survival, even the city itself seems determined to destroy them.
Enjoy the entire series! Next #1: Afterburn, Next #2: Earth Zero, Next #3: Radiophobia, Next #4: Directive 17; Next #6: Half Life
Share ... 






Follow Scott ...