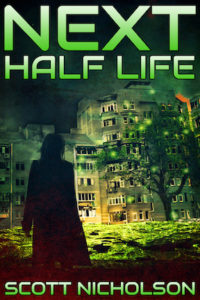 "One of the most thrilling writers working today. Miss him at your peril." –Blake Crouch, Dark Matter
Next #6: Half Life
Amazon    Nook     Kobo    Apple    Google Play     Kindle UK
After a post-apocalyptic showdown with a race of advanced mutants, Rachel Wheeler has lost everyone she loves in a hostile, contaminated land.
A half-mutant herself, she searches for the few remaining survivors with a dream of building a new civilization. But the survivors reject her strangeness, and the mutants don't trust her loyalties. Meanwhile, control of the world's nuclear arsenal hangs in the balance as both sides pursue extermination.
Rachel is torn between two mighty forces, but she might be the key to altering a terrible, ruthless verdict that will destroy them all.
Enjoy the entire series! Next #1: Afterburn, Next #2: Earth Zero, Next #3: Radiophobia, Next #4: Directive 17; Next #5: Crucible
Share ... 






Follow Scott ...