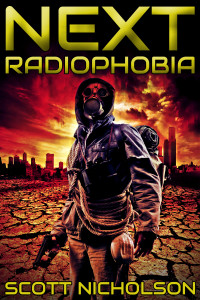 "Always surprises and always entertains." – Jonathan Maberry, Patient Zero
NEXT #3: RADIOPHOBIA
Amazon   Apple   Nook   Kobo   Amazon UK    Google
When mutants develop technology that threatens the dwindling human race, the last survivors fight to regain control of their world.
Rachel Wheeler and her friends are dropped into the enemy stronghold of Wilkesboro as part of a desperate military operation. Their mission is to disrupt a new energy source that will give the mutants unlimited power. Little do they know that the remnants of the central government have launched nuclear strikes on all major mutant colonies, and they will be caught in the fallout.
Will the nuclear holocaust deliver a final victory to the human race, or will the survivors face their own extinction in a world overrun with monsters and strange new races?
Look for Next #1: Afterburn, Next #2: Earth Zero, Next #4: Directive 17, Next #5: Crucible; Next #6: Half Life
as well as the AFTER and ZAPHEADS post-apocalyptic thriller series.
Share ... 






Follow Scott ...