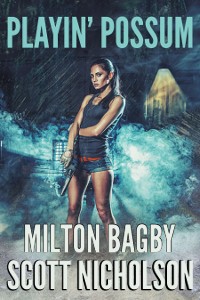 Available for Kindle and Amazon UK.
When a good guy meets a bad girl at the wrong time…
PLAYIN' POSSUM
Willie "Possum" Purdue is big guy with a good heart, a small brain, and a very dangerous flaw—he has the hots for Gertie Shaw.
Too bad Gertie's trapped in a love triangle with two small-time crooks. After a series of holdups leave a store clerk dead and another wounded, Possum finds himself lured into the mess. As the gang flees for a remote mountain hideaway, the local sheriff closes in with his own pack of misfits.
Possum will walk through hell and back to save Gertie. But with a woman like her, it might be a one-way trip.
——————————–
Scott Nicholson is the international bestselling author of more than 20 thrillers, including The Skull Ring, Liquid Fear, The Red Church, and the After post-apocalyptic series.
Milton Bagby is a thriller writer and audiobook narrator who lives in Nashville, TN. His books include the Rick Burkhart series, Beg for Mercy, and Siren in Red. Visit him at www.MiltonBagby.com.
Share ... 






Follow Scott ...