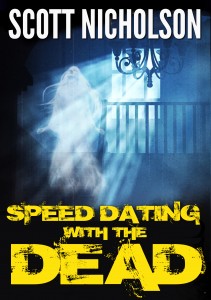 Purchase at Amazon for Kindle, Amazon UK,  Kobo and Smashwords; in audio at Audible and iTunes.
Click "Add to Cart" for a signed trade paperback ($9.95 + $3 S&H)
---
When Wayne "Digger" Wilson hosts a paranormal conference at the haunted White Horse Inn, he has motives beyond searching for the inn's legendary ghosts. Years ago, he made a honeymoon promise to his wife Beth that if one of them died, the survivor would return to the White Horse to summon the other's lost spirit. Now she's dead and Digger's back, with the daughter they conceived during that fateful honeymoon sixteen years before. And the ghost hunters are stirring up ancient evils that were better left in peace, because the inn's basement is home to a circle of demons that have been waiting for Wayne to return. They want his teenage daughter Kendra, and they'll play whatever tricks they need in order to satisfy their dark desires. And at the White Horse Inn, not even angels can be trusted.
Inspired by events at an actual paranormal conference at a haunted hotel, author Scott Nicholson's thriller takes you to the remote Southern Appalachian Mountains.
 "Keep both hands on your pants, because Nicholson is about to scare them off."– J.A. Konrath, author of ORIGIN "Always surprises and always entertains." Jonathan Maberry, PATIENT ZERO
From a #1 Kindle bestselling author, in development as a feature film.
Share ... 






Follow Scott ...