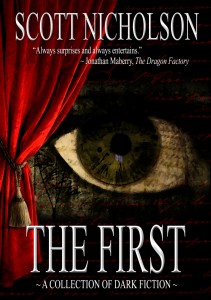 "A fresh and true voice that will affect you, disturb you, enrage you, or make you laugh."-Kevin J. Anderson, Dune series
Available at  Kindle, Nook and Smashwords for other e-reader platforms and as audiobook at Audible and iTunes.
A collection of 14 dark fantasy, dystopian, post-apocalyptic, and science fiction stories from award-winning author Scott Nicholson. These stories visit undiscovered countries and shadowy avenues of the heart, lands and times where night never ends and matter doesn't matter. Features the six-story Aeropagan cycle where time is literally money. Includes an afterword and Nicholson's first-ever published story.
"A literary shadow land between Ray Bradbury and Neil Gaiman." –Sharyn McCrumb, the Ballad books
"Always surprises and always entertains."–Jonathan Maberry, Patient Zero
"Quirky, twisted, finely crafted tales that carry a powerful emotional impact."–David Farland
"A very entertaining writer."– Tim Powers
Share ... 






Follow Scott ...