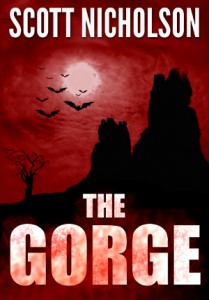 "'Deliverance' with fangs." Author's original screenplay adaptation of the 2007 paperback
An experimental rafting expedition, an FBI manhunt for a delusional killer, and the worst storm in decades collide in the remote mountain wilderness…and then THEY come out.
Available at Amazon.
Bowie Whitlock and a team of celebrity athletes is commissioned to test two experimental rafts in the rugged Unegama Wilderness Gorge in the remote Appalachian Mountains, considered the most dangerous whitewater rapids in the eastern United States. Photographer Dove Krueger, Bowie's occasional lover, is there to document the journey. The expedition is tense from the start as jealousy, romance, and money are riding on the mission's success.
FBI agent Jim Castle and his partner are in the gorge looking for Ace Goodall, a deranged abortion clinic bomber. Ace, accompanied by a fragile young woman, is having visions that guide his murderous behavior. A trip-wire around his camp detonates a rigged explosive, tearing apart part of a cliff wall and exposing a long-hidden vampire species to the world.
The race is on as dark storm clouds gather, the river is swollen, and Ace hijacks the rafting expedition to make his escape. But the bloodthirsty creatures swooping down from the high cliffs have been too long without prey.
Ace has one more bomb.
God is talking to him.
It's raining again, and his young companion is pregnant.
And killing isn't what it used to be, because the dead no longer stay dead.
"Like Stephen King, he knows how to summon serious scares. Buy everything he writes. This guy's the real deal."– Bentley Little, The Disappearance
"Always surprises and always entertains."– Jonathan Maberry, Patient Zero
"Keep both hands on your pants, because Nicholson is about to scare them off."– J.A. Konrath / Jack Kilborn, Origin and Draculas
"This is one author who aims for the kill and never misses."- Jeremy Robinson, Instinct
Share ... 






Follow Scott ...