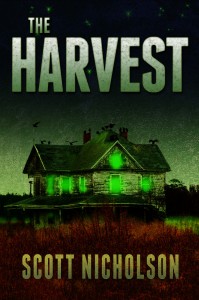 Available at Amazon, Amazon UK, BN.com, Kobo, Apple, Smashwords and as an audiobook at Audible and iTunes.
Click "Add to Cart" for a signed trade paperback ($9.95 + $3 S&H)
---
For fans of Stephen King, Dean Koontz, and Scott Sigler, from a #1 bestselling Kindle author.
An infection that consumes and changes people…
When an alien entity lands in the remote Appalachian Mountains, a clairvoyant psychology professor, a drunken dirt farmer, and a disillusioned tycoon must team up to stop it before the infection spreads.
But with Windshake's annual spring festival coming, the town is full of visitors, unaware of the unnatural menace creeping toward them from the woods.
"Fast paced and always creepy, this is one author that aims to kill and never misses." – Jeremy Robinson, author of INSTINCT and THRESHOLD
"Hold onto your pants, because Nicholson is about to scare them off."- J.A. Konrath, ORIGIN
"Always surprises and always entertains."- Jonathan Maberry, PATIENT ZERO and ROT & RUIN
"A gallery of fine characters, a remote location, and an alien entity bent on feeding. Nicholson has cooked up a perfect tale from this simple recipe, and the result will fill your dreams."–William Meikle, author of THE INVASION and THE VALLEY
"A fresh and true voice that will affect you, disturb you, enrage you, or make you laugh. He will not, however, leave you cold."–Kevin J. Anderson, co-author of the Dune series
Share ... 






Follow Scott ...