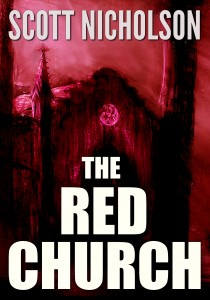 Mass market paperback from Kensington Books, Hardcover from Mystery Guild & Literary Guild, 2002
A boy and a sheriff must solve the mystery of a haunted Appalachian church when a strange preacher returns to town. Stoker Award finalist.
Available on Kindle, Nook, Smashwords, Kobo, and Apple, and on Audible.
Available in audio on Kindle and Audible.
Click "Add to Cart" for a signed trade paperback ($9.95 + $3 S&H).
---
For 13-year-old Ronnie Day, life is full of problems: Mom and Dad have separated, his brother Tim is a constant pest, Melanie Ward either loves him or hates him, and Jesus Christ won't stay in his heart. Plus he has to walk past the red church every day, where the Bell Monster hides with its wings and claws and livers for eyes. But the biggest problem is that Archer McFall is the new preacher at the church, and Mom wants Ronnie to attend midnight services with her.
Sheriff Frank Littlefield hates the red church for a different reason. His little brother died in a freak accident at the church twenty years ago, and now Frank is starting to see his brother's ghost. And the ghost keeps demanding, "Free me." People are dying in Whispering Pines, and the murders coincide with McFall's return.
The Days, the Littlefields, and the McFalls are descendants of the original families that settled the rural Appalachian community. Those old families share a secret of betrayal and guilt, and McFall wants his congregation to prove its faith. Because he believes he is the Second Son of God, and that the cleansing of sin must be done in blood.
"Sacrifice is the currency of God," McFall preaches, and unless Frank and Ronnie stop him, everybody pays.
My spiritual thriller "The Red Church" explores a boy's struggle with faith when his mother attends a haunted church. Inspired by real-life legends in the Southern Appalachian Mountains where I live, the novel mirrors my own search for faith, love, and deeper mysteries. I hope you'll try the next Littlefield novel DRUMMER BOY, and my other books, including LIQUID FEAR and SPEED DATING WITH THE DEAD. I invite you to contact me at Amazon Central. Thanks for sharing the journey. – Scott
"Scott Nicholson is the kind of writer who always thrills and always entertains." –Jonathan Maberry, Patient Zero
"Scott Nicholson understands that the best horror novels achieve primal fear through a combination of sustained atmosphere, richly drawn characters, and believable if uncanny evils that draw unholy power from everyday lives. The Red Church is a damn scary story well told." –Christopher Ransom, author of the international bestseller, The Birthing House
"A master of atmospheric suspense." –Eric Wilson, NY Times bestselling novelist"Scott Nicholson knows the territory. Follow him at your own risk."–Stewart O'Nan, Boston Noir
"Keep both hands on your pants, because Nicholson is about to scare them off."–J.A. Konrath, Origin
"A wonderful storyteller. He has entered a literary shadowland between Ray Bradbury and Neil Gaiman."–Sharyn McCrumb, The Ballad novels
"Like Stephen King, he knows how to summon serious scares."–Bentley Little
Share ... 






Follow Scott ...