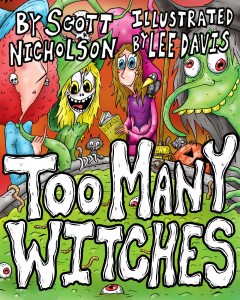 Available for Kindle, Kobo or Nook
Click "Add to Cart" for a signed trade paperback ($9.95 + $3 S&H
---
A fun bedtime story to help All Little witches learn to play nice!
When Moanica Moonsweep plans a special Halloween party, her witch's brew has to be just right. So she invites her witchy friends over to help her plan the perfect kettle of gruesome stew.
But when they can't agree on the nastiest ingredients, they have a very messy problem.
A bedtime, read-aloud story for ages 5 through 8, teaching all little witches how to work together to solve a problem.
Art by Lee Davis
(Professionally formatted for optimal color view on Kindle Fire. Older Kindles will have black-and-white images with flowable text to meet Amazon specifications.)
Share ... 






Follow Scott ...