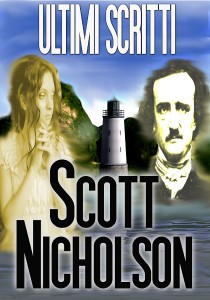 (Italian edition)
Graziano Versace (Translator)
Available for Kindle and Nook.
Una breve storia d'amore ambientata nell'epoca vittoriana.
Una giovane donna viene portata in un faro desolato dove incontra Poe, il guardiano, un uomo enigmatico che è anche uno scrittore e che, con la sua ardente passione, la affascina e le dà i brividi.
Includes English edition of "Last Writes."
Scott Nicholson è un autore internazionale di successo con più di 20 libri pubblicati. Non lasciatevi scappare gli altri titoli di Scott Nicholson tradotti in italiano, Cronaca nera, La Chiesa Rossa e Ultimo ballo col morto.
Share ... 






Follow Scott ...